For the Graduate School, spring is our busiest, most exciting time of year. Starting with students returning from spring break in early March all the way through June, we are busy with activities, celebrating Graduate Education Week, our student and postdoc research symposiums, graduation and usually a visit to the General Assembly with other North Carolina graduate schools.
But not this year.
We could not have imagined that before the end of spring semester, our students would be learning online, research would be shut down and campus operations would be remote. In this timeline, we lay out some of the moments that marked the university's transitions into quarantine and remote operations and the effort to reactivate campus for fall. As Think goes to press, we are still in transition. Every week brings new challenges.

January 2020:
When students returned from winter break, everything looked pretty normal. We shared videos of three graduate students who teach fitness classes at the Carmichael Rec Center and their suggestions for getting fit in the new year.
Get

Fit
March 11:
It was the middle of spring break and the ACC basketball tournament was in full swing. Graduate School staff were looking forward to watching the Wolfpack's 2 p.m. game from Greensboro. The ACC had already announced that fans would not be able to attend the games, but the tournament would still be televised.
Just hours before the NC State game, the conference reversed course and declared that the tournament would be canceled. Then the NCAA canceled the March Madness basketball tournament. And professional sports followed suit, canceling or postponing their seasons: Major League Baseball, the National Basketball Association and the National Hockey League.
March 12:
While students were still out on spring break, NC State University announced that we would extend the break one additional week, while teaching faculty made plans to bring their spring classes online. Students were advised not to return to campus housing, although exceptions were allowed for those who had no place else to go.
March 17:
Some NC State faculty and staff were already working from home, when the university announced that all offices would begin operating remotely. The Graduate School had to quickly provide laptops to employees without them and train people on using the tools necessary to work remotely – VPN and Zoom. We also installed a drop box for package deliveries. The Professional Development Team moved many programs online and developed training for graduate teaching assistants preparing to teach virtual classes.
Opportunities Go

Online
March 23:
Online classes began. Carmichael Rec Center closed. Arts NC State programs were canceled. University housing was closed, but students were allowed to return to pick up essentials they had not taken with them on spring break. DH Hill Jr. Library and Talley Student Union remained open to the NC State community for a bit, but eventually they too closed. Campus was eerily quiet.
Late March:
Zoom meetings became the norm for campus operations. Each month, the Graduate School held a Zoom staff meeting for updates from Dean Peter Harries. Harries also held regular updates with directors of graduate programs and graduate services coordinators that attracted nearly 200 people.
Students preparing to graduate switched from defending their thesis or dissertation in person to defending online. Such arrangements had both pluses and minuses – students were excited that family and friends from around the globe could hear their defense live, but they also faced the challenges of defending from a room alone rather than a classroom with colleagues.
Adapting to

Online
March 27:
This would have been the day of the first-ever NC State Graduate Mental Health Symposium, but the event was initially postponed until fall and later canceled. The students who helped plan the event stepped in to help their fellow students by sharing videos of encouragement to help them cope.
Graduate Mental

Health
April 6-10:
This would have been Graduate Education Week, but we had to cancel the Faculty Three Minute Research Talks and our Graduate Student Research Symposium. We took the celebration online and created some virtual experiences for students. Our Outstanding Graduate Faculty Mentors were named – they would have been recognized at the research symposium.
April normally brings a celebration of new named professors from the Alumni Association. Since campus was operating remotely, the event wasn't held, but four new Alumni Distinguished Graduate Professors were named.
May 8:
A glimmer of hope: North Carolina begins to reopen. Retail stores and parks are allowed to reopen at reduced capacity. North Carolina State Parks experience a surge in visitors as home-weary residents search for safe places to go.
May 9:
Spring graduation was postponed. At first, the university held out hope for some type of virtual celebration, and some programs offered an online celebration. But on May 9, the original day of commencement, PNC Arena was quiet and there were no red or black robes there at all.
To honor our graduate students earning degrees, Graduate School communications asked the grads to send in a representative photo of themselves we could share on social media. We were delighted to share nearly 300 graduates' photos during the month of May.
Follow Us on

Instagram
Late May:
The university announced that fall semester would begin on campus Aug. 10, a week earlier than planned, with no fall break. The semester, including final exams, would end before Thanksgiving. Ten task forces were working on plans for how to operate different facets of campus life this fall – housing, dining, classes, athletics, libraries, research and more.
The Graduate School's Professional Development team pivoted from in-person to online learning. The Job Search Strategies workshop that would have served 50 students in-person attracted more than 800 graduate students and recent grads eager to get tips for navigating the COVID job market.
May 22:
Additional North Carolina businesses, including restaurants, were allowed to reopen at half capacity.
June:
Following the murder of George Floyd and the protests that followed in Raleigh and across the country, NC State administrators, including Graduate School Dean Peter Harries, issued statements on the university's commitment to diversity and inclusion.
Harries' Statement
NC State announced that all students, faculty and staff would be required to wear face coverings on campus this fall to prevent the spread of the virus.
Later in the month, NC State held four virtual town hall meetings for graduate students, undergraduate students, faculty and staff to answer questions and address concerns about the reopening. Chancellor Randy Woodson led the meetings, which focused on the mask policy, classroom safety, contact tracing and equity issues for those who cannot work or safety attend classes on campus.
On June 23, Dean Peter Harries and the Graduate Student Association (led by President Lexie Malico) held a town hall meeting just for graduate school students related to campus safety during COVID-19 and equity issues.
Late June/early July:
Positive COVID cases in North Carolina were on the rise, as well as the number of hospitalizations. The largest number of cases was among those 20-40 years old. Much of the rise is attributed to gatherings that took place Memorial Day weekend, when North Carolina began reopening.
As a result, Raleigh Mayor Mary Ann Baldwin issued a mandatory mask order for Raleigh, followed quickly by a statewide mask mandate from Gov. Roy Cooper.
First week of July:
The Trump administration announced that international students who are not enrolled in in-person classes for fall would have to return to their home countries, a move that would have negatively impacted NC State's nearly 3,000 international graduate students. When universities had to close in the spring, international students were allowed to remain in country, even though their instruction had moved online. Universities around the country reacted, and several even planned lawsuits against the administration. Within a week, the administration backed off the requirement that international students take some classes in person.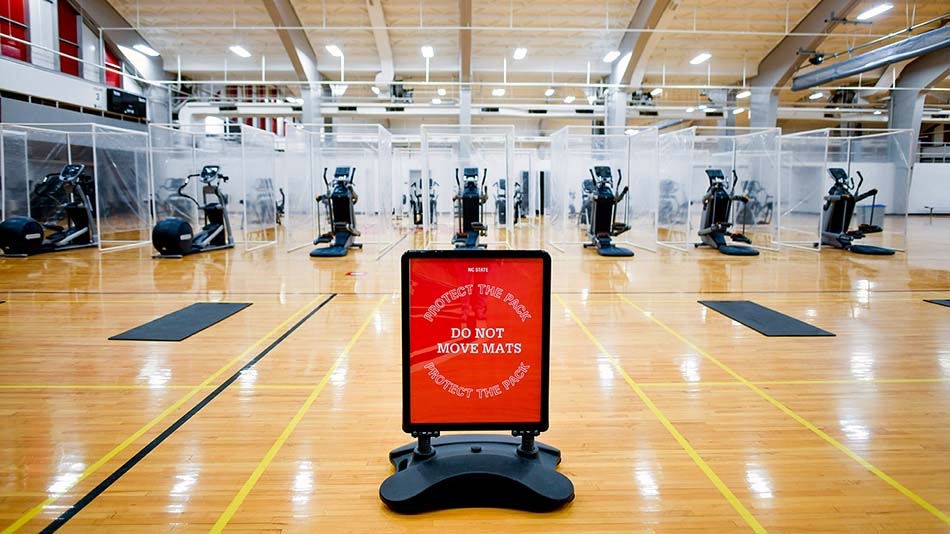 August:
Gov. Roy Cooper announced that he would keep the state in Phase 2 reopening, as COVID cases in the state continue to rise. As a result, the Carmichael Rec Center did not reopen when students returned. Wellness and Recreation continued offering virtual fitness classes, as well as some in-person for students on Miller Field near the rec center.
In preparation for campus reactivation, the Graduate School held its orientation and information fair virtually.
Aug. 10:
Classes resumed for the fall semester. Many students opted for online-only classes, leaving fewer students on campus. The Graduate School administrators decided not to have staff return to the office, so the leadership team took turns opening the office from 10 a.m.-2 p.m. Monday through Friday, mostly for students who needed to pick up documents.
Aug. 12:
The N.C. Council of Graduate Schools moved its fall conference in October from Western Carolina University to an online format.
Aug. 19:
At nearby UNC, undergraduate classes were all moved online, after four COVID-19 clusters (five or more cases) were identified on campus. One residential COVID cluster was identified at NC State and another at ECU.
Aug. 20:
After a number of COVID clusters were identified, NC State announced that all undergraduate classes would move online effective Aug. 24. Graduate classes that are in person could remain in person, or transition to online. Clusters of COVID at NC State were mainly in off-campus housing, so campus housing remained open for students who want to stay on campus.
Aug. 26:
As more COVID clusters were discovered in student housing both on and off campus, the university announced that campus housing would close because it wasn't safe for students to remain. Students living on campus had to move out by Sept. 6, although many graduate students were allowed to stay due to special circumstances. Classes were suspended on Aug. 31 and Sept. 1 to allow students time to move. The semester was extended by two days to make up the time.
What's coming:
For many graduate students, the semester didn't change much. Classes continued either in person or virtually. Some students enrolled in all virtual classes continued their studies from wherever they spent the summer. Research has been reactivated, although labs remain under capacity restrictions to prevent the spread of COVID.
Since the pandemic began, NC State has done its part through research and service to the campus and larger community. You can read more about the university's contributions in Stories of Impact.
Spring 2021 semester will begin on Jan. 11, as planned, with some in-person classes. Campus housing will reopen, with occupancy limited to one student per room.
Like most other professional development programs at the Graduate School, the Three Minute Thesis was moved online this year. You can watch the finals on Dec. 2, noon ET. Visit the 3MT website for more information.