About Anna Spencer: The Grad Behind the Stacks
When the Graduate School needed help telling the story of 125 years of graduate student success, we turned to, well, a graduate student. For the past year, public history student (now recent alumna) Anna Spencer combed through digital archives and special collections artifacts to learn more about the history of graduate education at NC State. In the process, she wrote articles, located photos, created a Twitter campaign, interviewed former deans and developed a digital timeline. 
Before coming to NC State, Spencer earned a bachelor of science degree in public history from Appalachian State University, where she was a leader in the student history club. In Boone, she was also an intern at the Jones House Cultural and Community Center, the historic family home of Dr. John Walter Jones, one of the first physicians in the area. There, she created an exhibit on the Jones House history.
I chose these programs because the dual degree was unique.
Spencer came to NC State for a dual degree program here and at the University of North Carolina at Chapel Hill. At NC State she earned a master's degree in public history; this fall, she continues her program at UNC to earn a master's of science degree in library science, with a concentration in archives and records management.
"I chose these programs because the dual degree was unique," Spencer said. "Both programs were well known and respected. To understand archives, you need the library science. And public history helps you understand what people might be looking for when they go to archives."
In studying the history of NC State graduate programs, Spencer said she was impressed with the perseverance of university leaders and students in their quest to offer graduate programs. When the university first offered postgraduate studies in 1893, North Carolina allocated only $250 in support. Some state leaders believed that only UNC was capable of providing a rigorous graduate education. 
In the 1920s, just a year after the first Ph.D. was awarded, NC State decided to cease offering doctorates when a majority of the class failed their comprehensive exams. Later, NC State would bring the doctoral degrees back. But in the 1940s, the Consolidated University System decided that doctoral degrees would only be awarded by UNC-Chapel Hill. So students who did their degree work at NC State still had to receive their degrees at UNC — not a satisfactory outcome for the NC State graduate students.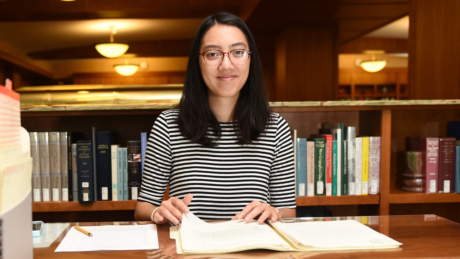 Spencer wasn't always interested in history. When she was in high school, she was more interested in science. As an undergraduate at Appalachian State, she became interested in social studies education, until she discovered that she didn't want to spend all day working with children. She eventually changed her major to public history, realizing that she enjoyed visiting museums and historic sites.
At NC State, she participated in creating a digital exhibit on the 1918-19 influenza pandemic and its impact on NC State's campus. She used the obituary of cooperative extension employee Robert Freeman to show the changing narrative around death in early 20th century obituaries. She also worked as an intern for the state archives' African American Education Digital Collection in 2018.
While she is completing her UNC degree this year, she also will be working at Campbell University as an intern, helping digitize documents. She also expects that she'll help develop an exhibit there, as past interns have done. When she graduates from UNC in the spring, she would like to work in government archives.