What's New in Graduate Education?
It was a year of celebrations and an alumna in space; of Envisioning Research and a Day of Giving; of an ACC championship and a first-ever grant from the National Science Foundation. If you missed any of this, find out more from our Graduate School 2019 round-up.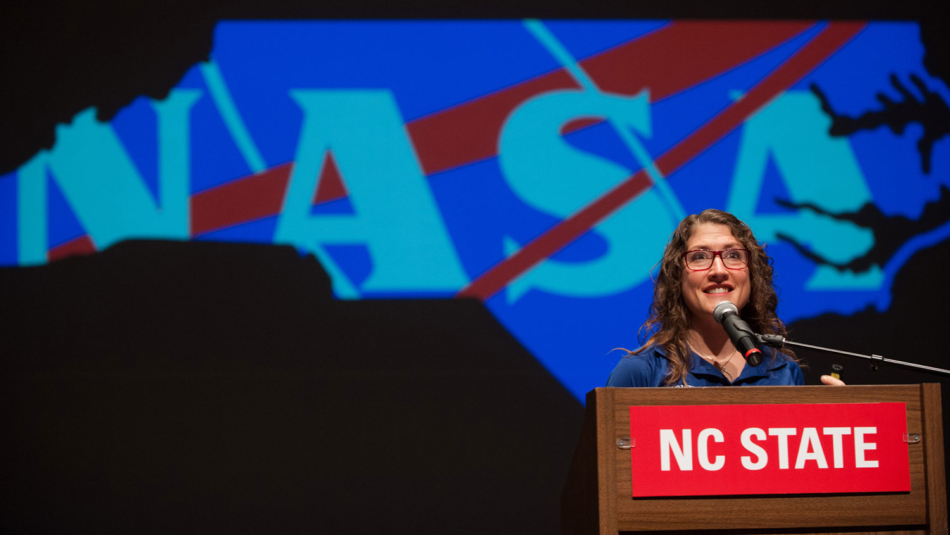 Alumna talks with NC State from space
This year, NC State alumna Christina Koch will spend more than 300 days on the International Space Station. In late August, Koch took time to answer questions from students at NC State and the N.C. School of Science and Mathematics, via video uplink. Koch, a native of Jacksonville, NC, earned bachelor's degrees in physics and electrical engineering, and a master's degree in electrical engineering. She's on track to pass the record for time in space by a woman astronaut.
Live from the

ISS
A new dean for the Graduate School
Peter Harries, who served as interim dean of the Graduate School for two years, was officially named to the position in August by Provost Warwick Arden. Harries came to NC State in 2015 as senior associate dean. Graduate School staff welcomed the news of Harries' appointment and marked the occasion with a commemorative poem composed by Associate Dean Mike Carter.
Dean

Harries
Graduate School gets NSF grant
In August, the Graduate School learned we had received NC State's first-ever Innovations in Graduate Education grant from the National Science Foundation. The $400,000 grant will support efforts to expand the Accelerate to Industry (A2i) program to other institutions. For this first time this summer, we held a train-the-trainer workshop where 22 North American universities came to learn how to implement A2i on their own campuses. The data collected from this effort will help determine how effective this model is in helping Ph.D. graduates find jobs in industry.
NSF

Grant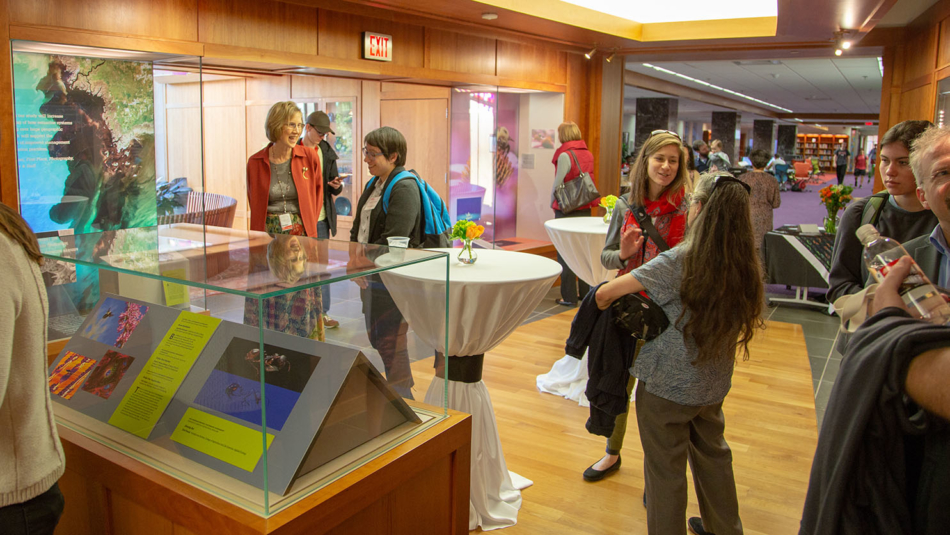 Envisioning Research images on display
In its third year, NC State's Envisioning Research images contest turned the artistic images into an art exhibit. From October 2018 through March 2019, the images were on physical display at D.H. Hill Library and on digital display at Hunt Library.  NC State Libraries' Molly Renda found creative ways to display the images, from 3-D reproductions printed on fabric to wall-sized images of the smallest molecules photographed under a microscope. The 2019 Envisioning Research winners were recently announced – see the winning images here.
Envisioning

Research
First Day of Giving brings $13.5 million
On March 27, the Wolfpack nation came together to raise over $13.5 million for university programs in our first Day of Giving. The Graduate School sought donations for the Robert and Suester Sowell Graduate Student Travel Grant and raised nearly $4,000. These grants provide funds for graduate students to travel to conferences.  Thanks for all you do to support graduate education at NC State, and watch for announcements about the next DoG, March 25, 2020.
Day of

Giving
Partnering with Kannapolis campus
Shannon Madden of the Graduate School's Professional Development Team partnered with a graduate student group at the NC Research Campus in Kannapolis to offer workshop there earlier this year. Madden, director of graduate writing, offered four workshops for the Catalyst Group, a student-run organization that was interested in bringing professional development opportunities to their campus. In September, Chris Smith with the Office of Postdoctoral Affairs, visited with postdocs in Kannapolis during Postdoc Appreciation Week.
NC Research

Campus
Outstanding graduate mentors recognized
Each year, the Graduate School asked graduate students and alumni to nominate faculty for the Outstanding Graduate Mentor Award. At our Graduate Student Research Symposium in March, we recognized two excellent faculty mentors – Emily Burglund, associate professor in civil, construction and environmental engineering, and Tammy Gordon, history professor and director of NC State's public history program.
Faculty

Mentors
Four named Alumni Distinguished Graduate Professors
Four NC State faculty were named Alumni Distinguished Graduate Professors by the NC State Alumni Association. The professorship, which carries a $4,000 award, recognizes outstanding graduate teaching at NC State. Nominations are solicited by the Graduate School dean, and the finalists are chosen by a selection committee.
Alumni

professors
ACC victory for Three Minute Thesis
Here's an Atlantic Coast Conference championship for NC State that you may not have heard about: In July, the Graduate School's 2018 3MT winner Ciera Cipriani was runner-up in the first-ever ACC 3MT competition held in Washington, DC. In addition to competing against 3MT winners from other ACC schools, the participants attended professional development sessions on research advocacy and working for the federal government, toured Capitol Hill and met with congressional staff from the students' home states.
ACC

Champ
Gremaud is new associate dean
In September, Pierre Gremaud, professor of mathematics at NC State, was named associate dean for program development and evaluation at the Graduate School. He replaced Mike Carter, who is transitioning to half-time work, but will continue to work with students who receive support from the Dissertation Completion Grant.
Gremaud is associate

dean
Student wins Lemmelson-MIT Prize
Federico Scurti, a Ph.D. candidate in NC State's Department of Materials Science and Engineering (MSE), has won a $15,000 Lemelson-MIT Student Prize for his work in enabling applications of high temperature superconductors (HTS), specifically for inventions to detect and prevent HTS failure. He was one of four graduate students to receive the prestigious prize for his research.
Lemmelson Prize

Winner
MFA alumnus wins Whiting Award
Poet Tyree Daye, who earned his master of fine arts in creative writing from NC State in 2017, learned in March that he is one of 10 recipients of a 2019 Whiting Award, one of the largest and most prestigious awards given to emerging writers in the United States. Each year the Whiting Foundation presents $50,000 awards to writers of fiction, nonfiction, poetry and drama. The awards are based on early accomplishment and the promise of great work to come.
Prestigious Writing

Prize